Note from Jill: I'm pleased to have Amy Young Miller from Vomiting Chicken guest posting today! After you are done reading about her 5 favorite gardening tools, click over and find out how she came up with the name for her blog! 😉
(And just a heads up- some of the links below are affiliate links.)
It crept up on me gradually this spring, the grim realization that perhaps I couldn't keep up with our place any longer. I've stretched and have become more savvy and I've tried to get by on less sleep . . .but it wasn't until I found some great new tools that I decided that maybe I'd be able to keep up, after all.
Here's some backstory: when my good husband and I planted our orchard, the berry patch, our large gardens, our many (moan) flower beds and hundreds of trees, we were already blessed with a houseful of offspring–six of them–ornery, robustly healthy, and full of vinegar. Several were in their teen years when we moved to the country, and we hadn't envisioned (yet) that someday in the misty future, they would leave us, one by blessed one. Not really.
What a work force! No matter what needed doing, there was always somebody (usually, many somebodies) who could use a job. Build a chicken coop? No problem. Dig holes for dozens of fruit trees? Water the windbreak? Piece o'cake.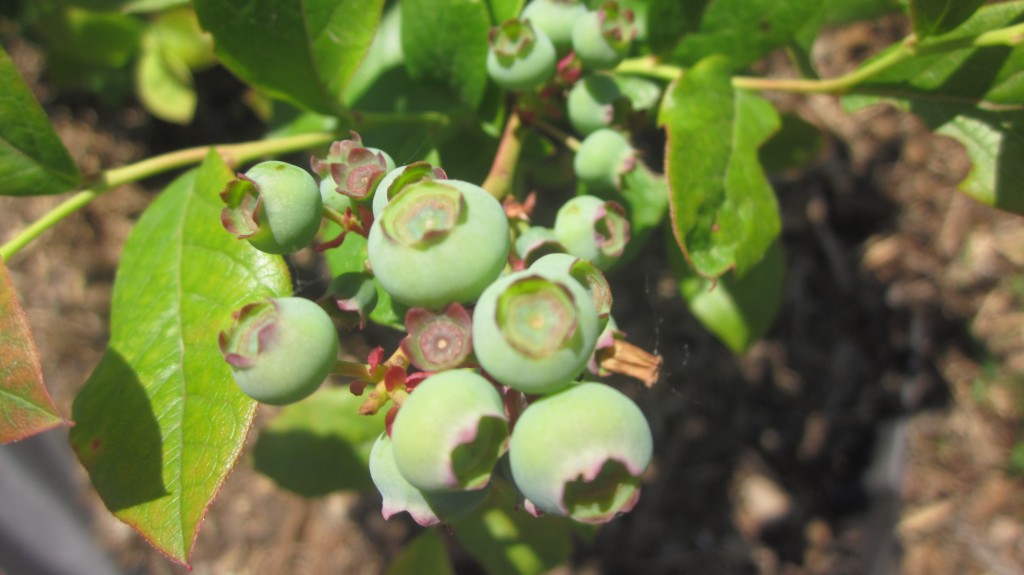 Then, the unthinkable happened: the kids started growing up. Three of them went to college (so far) and two got married (so far). Just picture it, Gentle Readers–I taught them how to cook and bake, can and freeze, butcher chickens and cut and split wood and more, and then–just when they become quite handy–they started leaving me.
It hardly seems fair.
Guess what else? The brambles spread, the fruit trees grew large, the blueberry patch started producing, and the garden still gets weedy–at a faster pace, even, if that's possible.
And now I have just two kiddos at home with me–Amalia and Malachi–fresh-faced and helpful, but hardly the large team that I need. This spring brought the realization that we couldn't possibly work harder, so we were going to have to work a whole lot smarter.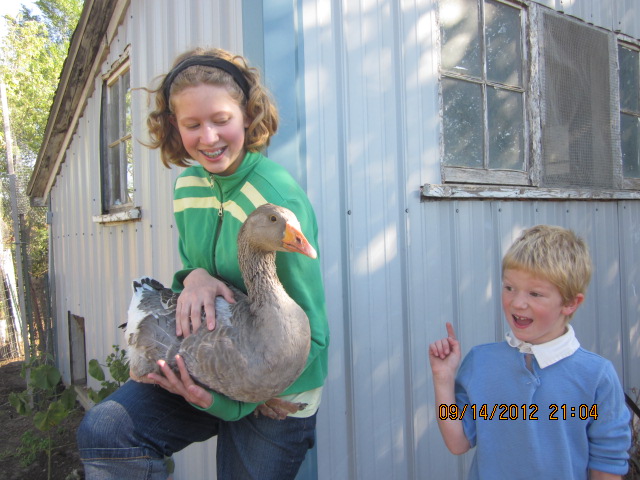 I've discovered five new garden tools that have saved me time and increased my productivity and I'm happy to share this knowledge with you! I've also stumbled upon One Secret Weapon that has given me hopes of being able to keep up with our place, after all. (For now!) Many of you may–like me–try to juggle too many plates, figuratively speaking. Perhaps this will help you work smarter, too.

First: I absolutely love these Atlas Nitrile garden gloves. I've never been a glove-wearer, mind you, until now. These babies are like a second skin. They don't get soaked like cotton gloves, and mud doesn't cling to them. They last for years; they come in several sweet colors; and they are affordable. I never have to scrub mud out from underneath my fingernails, which is a plus. Trust me. You need some, too, I'm sure of it!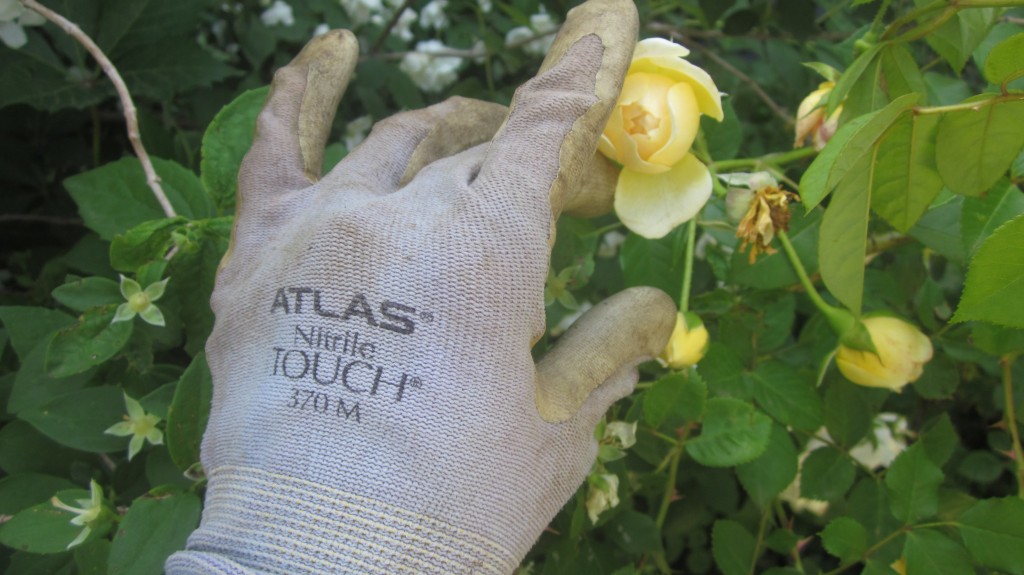 This second brainchild, though simple, has saved me tons of time: I bought an inexpensive plastic lidded bin, and stashed it by my garden gate. Inside I store the items that I often run to the house to fetch: a screwdriver, hose-mending supplies, a knife, fertilizer, my garden journal. You know, crucial stuff. Trowels. A snack! Brilliant, don't you agree??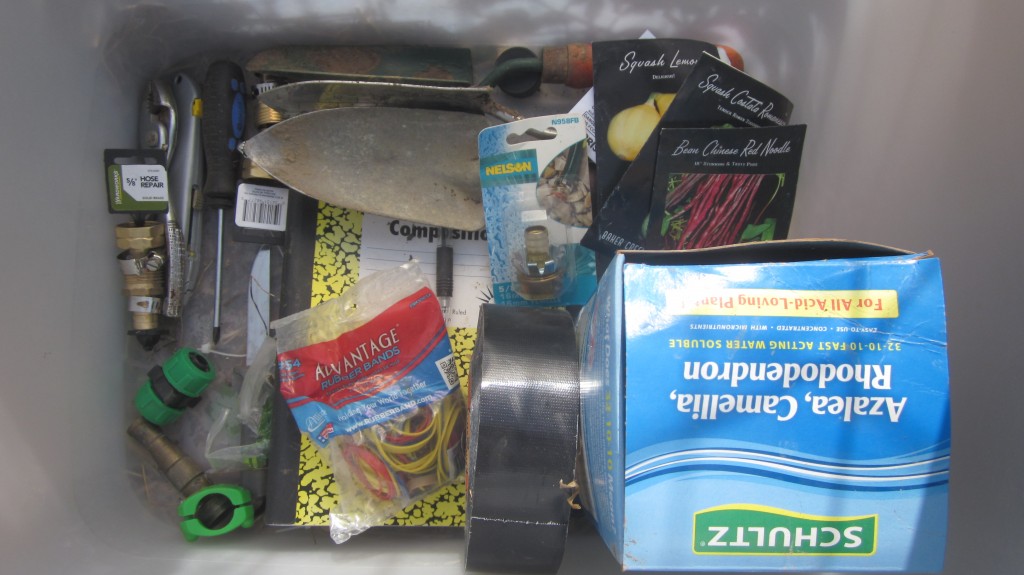 Third: (and I don't care if everybody laughs at me): my daughter Bethie is working as an electrician's apprentice this summer. She wears a bulging toolbelt every day, filled with necessary tools. I decided that this would be helpful for garden use, too. So I bought my own toolbelt and filled it with garden tools. I haven't wasted a single moment searching for these tools since I started strapping this baby on every time I head out to my garden! Does it look silly? I don't care! It's amazing!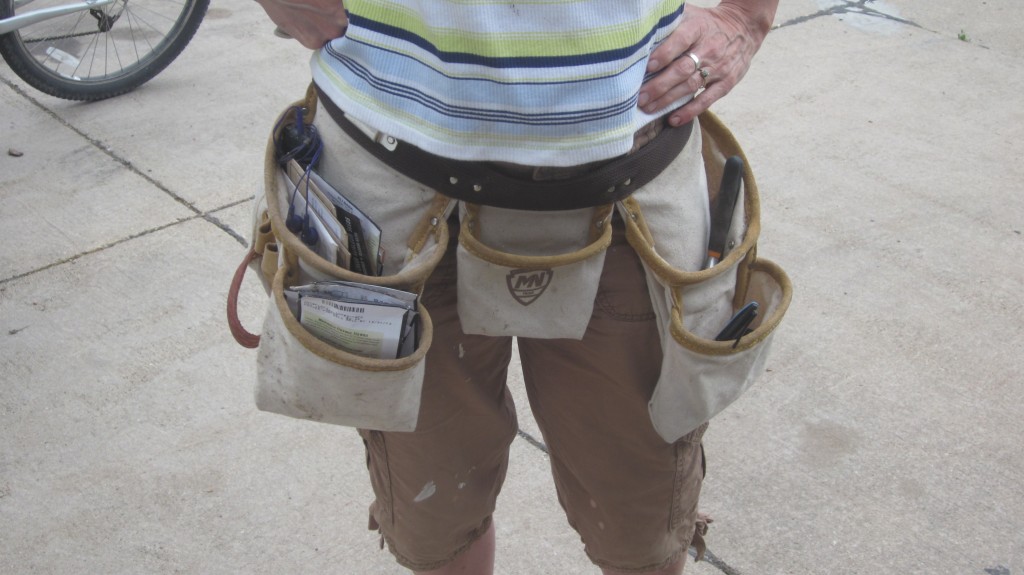 Here's what I carry in my new toolbelt:
carpet knife (for cutting twine)
bypass pruners (um, for pruning)
MP3 player (Jane Austen can be a delightful distraction)
camera and notebook (I write a blog and you can find it right over here)
twine (for tying up tomato vines)
Sharpie marker (always handy)
my aforementioned Atlas gloves (when I'm not wearing them, which isn't often)
packets of seeds
dog treats (naturally)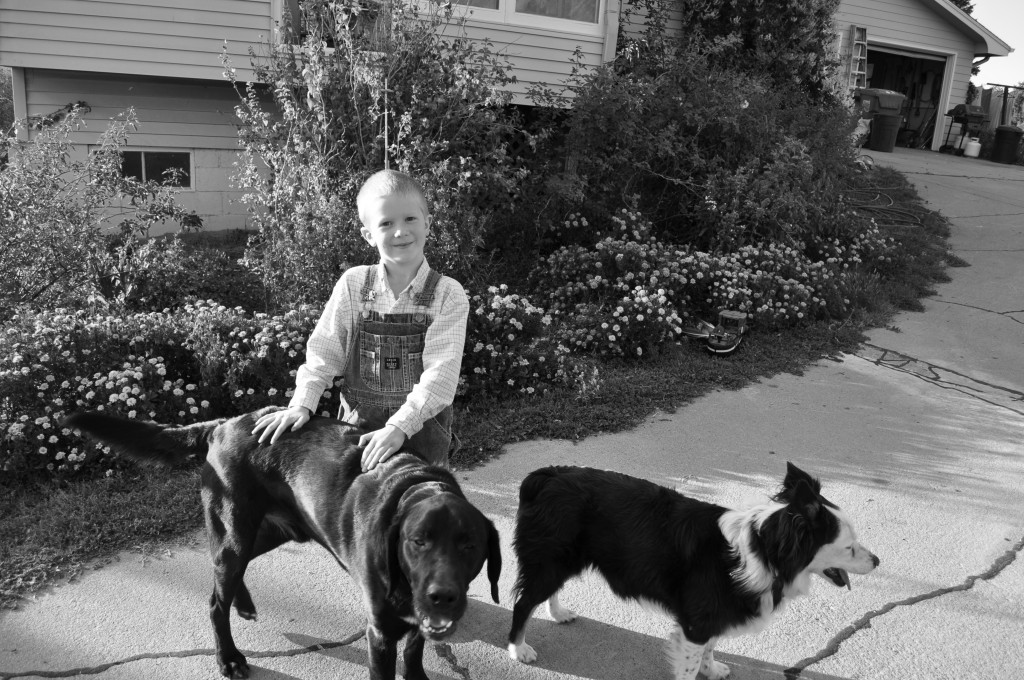 And Fourth: Our gardens and orchard are several hundred yards from our house. I made a wonderful discovery, to wit: I save many precious minutes every day simply by using my bike to go to and from the orchard and gardens and our house. My neighbors might think me eccentric, but perhaps they'll also note that I've got a big goofy smile on my face when I'm on my bike because I'm saving so much time . . . and I'm having some fun, baby!
Fifth . . . Have you ever used landscape cloth (affiliate link)? It's wonderful! I bought a roll at Sam's Club (it's inexpensive) and put it down around my blueberry bushes. I installed drip tape under it, first.
Ta-daa! No more weeds between the bushes, and it's easy to mow between the rows. Saves me tons of time!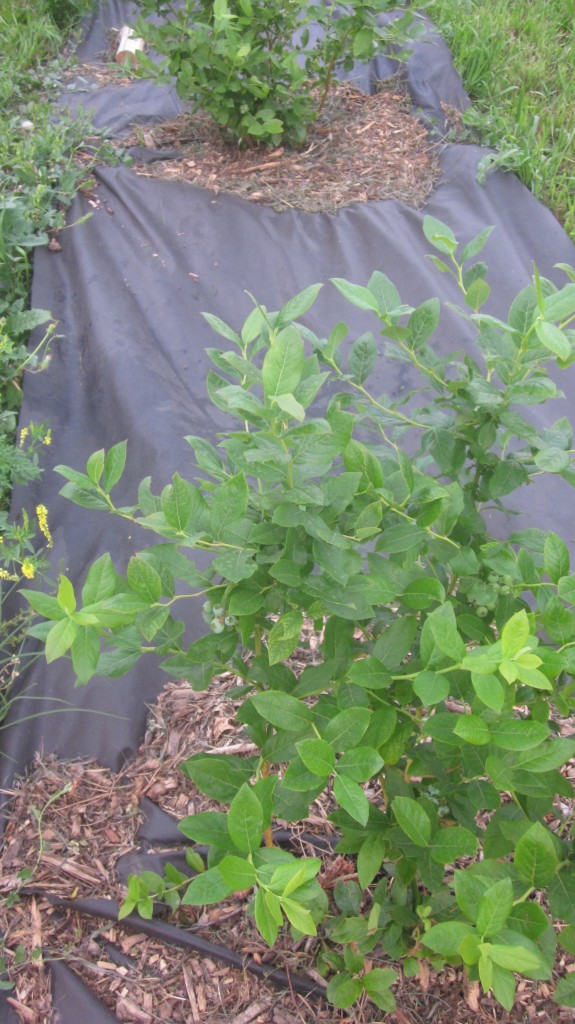 Now, Gentle Reader, perhaps you've stuck with me through this post about my new favorite garden tools (some of which aren't even really tools) simply because you have a mild (yawn!) interest in the "Secret Weapon" mentioned in the title.
Here's the thing. If my older children found out about this, I'd be in deep trouble. Perhaps they wouldn't bring the grandchildren to see me any longer, and this–you understand!–must be avoided at all costs. But I said I would tell you, so I'll tell you. I am a woman of my word.
Providing you promise not to tell anybody . . . so . . . . whaddya say? Promise?
I'll take your quiet, confused gaze as a "Yes."
Okay: here it is: I've started paying my darling daughter Amalia to work alongside me in the garden. There. I've admitted it. Of course she was helpful already, but in a flash of inspiration one day, I asked her if she'd like a job. I told her that I couldn't pay her much (and I don't), but that I'd teach her valuable gardening secrets (and I do). She is saving up for something special, and I knew that my little weekly paycheck would come in very handy (and it does.)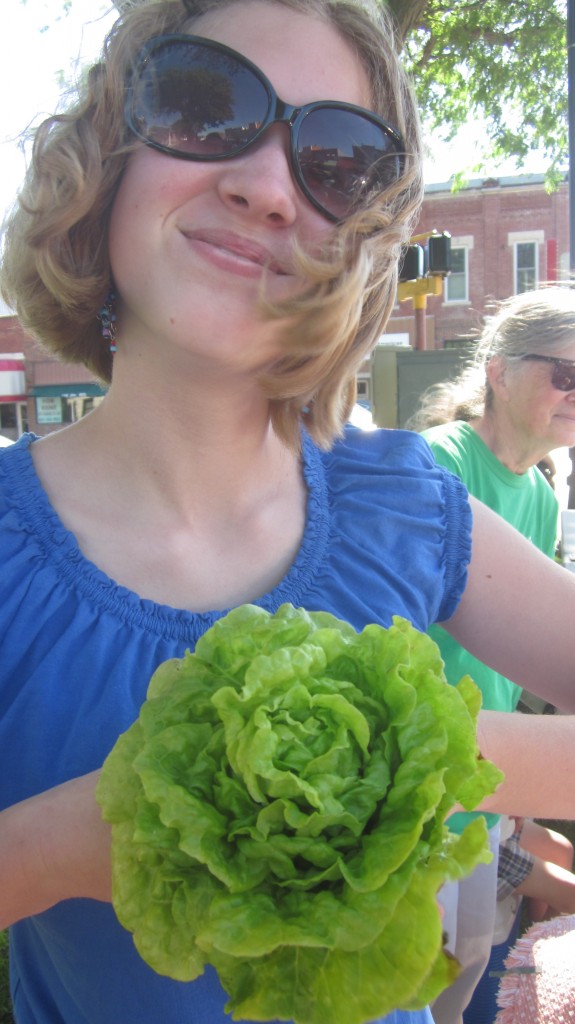 Hiring my daughter was an awesome idea–if I do say so, myself–and has turned up some unexpected benefits: I'm more productive myself now, as I plan my gardening hours. Amalia works more enthusiastically, knowing that she'll get something (besides the satisfaction of producing the family's vegetables, of course!) from her sweat and sore muscles. Plus, it's fun! It feels more like we're partners now.
(Remember–you promised! My older kids will never let me hear the end of it, if they learn that their little sister is getting paid when they didn't . . . wince . . . )
So there you go!--my five fabulous new garden tools, and one super-secret weapon that totally increases my productivity. I hope my discoveries will spur you on to even greater effectiveness and joy in your gardening experience, too!
Now go out and garden smart, you–and don't forget to have some fun, while you're at it!
 Amy Young Miller is an artist, a writer, a mama of six and grandma of two (so far!) and wife of Bryan and child of a merciful and loving God, who has showered her with more abundance than she deserves, and certainly more than she can handle. She lives in Nebraska and writes a blog about her family and her country life at http://vomitingchicken.com.