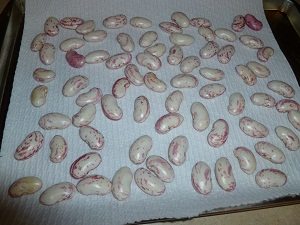 (Guest Post by Melissa K. Norris)
Our entire garden was planted with heirloom seeds this year. Heirloom seeds, sometimes referred to as heritage, are seeds exactly as God made them. They are untouched by science and man.
We already follow and practice organic gardening, but I didn't want anything genetically modified growing on our land or going into my families bodies. We've always used heirloom Tarheel green beans. My grandparents brought it with them out to Washington state when they migrated here from North Carolina in the 1930's.
I can't eat any other green bean and neither can my kids. If we're in a restaurant they think the green beans taste funny. So do I.
Practicing the homesteading/pioneer way of life, we try to be as efficient and frugal as possible. When raising heirloom crops, you can save the seed from year to year. Beans are a self-pollinating plant. You don't have to worry about them cross-pollinating and mixing the strains. And unlike tomatoes, you don't have to use the fermentation process.
We also grow a heirloom bean that I've always known as an October bean. They are a shelled bean, ready in October, and are excellent in chilis, soups, and refried. These are the beans we'll be working with today.
To save your bean seed, wait until the beans are ripe. It doesn't matter if they're overripe. Shell your mature beans out. You can see in the picture below, the bean pod on the left is still green, which is fine for shelling and canning. The pod on the right is mature and better for bean saving.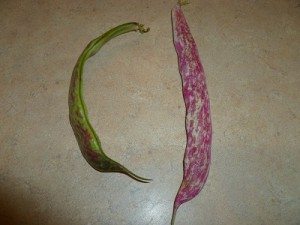 On a shallow pan, preferably with a lip, lay a paper towel or absorbent towel of your choice. Without allowing any of the beans to touch, spread them out. Keep them in a single layer and store somewhere dry for at least three to four weeks. In our wet area of the Pacific Northwest, we let them dry for up to two months. Check them often and if any beans are molding, throw them away.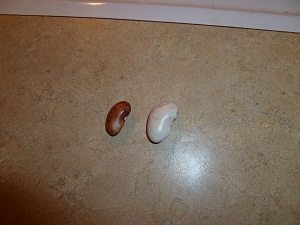 When they have shriveled to almost half their size (as the bean on the left), darkened, and your finger nail doesn't penetrate or scratch the surface, the seeds are ready to be stored for next year's planting. Store them in a glass jar, plastic bag, or paper envelope in a cool dark area.
Be sure to mark your seed with the name and year. Heirloom seed will keep and be good for up to three or four years. Be sure to save twice as much as you think you'll need. You always want to be prepared for replanting if the weather doesn't cooperate. Or if you're like me, to give away to friends and blog readers. (After last year's success, I'll be doing an annual giveaway of heirloom bean seed on my blog)
Planting tip: Always soak your bean seed the night before planting.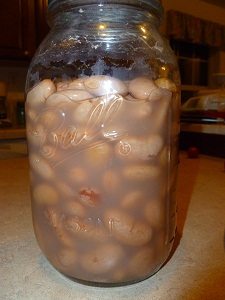 October beans are wonderful canned. We use them as a soup bean with cornbread, refried (excellent with Jill's homemade tortillas), and in any soup or chili recipe you have. When canning shelled beans, be sure to not pack all the way to the top and cover with plenty of water.
And… there's a giveaway!
Not only is Melissa a talented gardener, but she is also an author. And today she is generously giving away a copy of her eBook, Pioneering Today. An excerpt from the book's website:
In Pioneering Today-Faith and Home the Old Fashioned Way, author Melissa K. Norris explains practical and easy methods to cook from scratch, garden, preserve your own food, and see God's fingerprint in your everyday busy life. You'll learn how to:

*Decrease your grocery and energy bill

*Improve your family's health by cooking from scratch and over 40 delicious recipes

*Grow and preserve your own food

*Reduce your time in the kitchen without sacrificing taste and nutrition

*Expand your view of God in your daily activities
**GIVEAWAY NOW CLOSED. Congrats to the winner, Ruth M.!**
Melissa K. Norris found her own little house in the big woods, where she lives with her husband and two children in the Cascade Mountains. Her books and articles are inspired by her family's small herd of beef cattle, her amateur barrel racing days, and her forays into quilting and canning—without always reading the directions first?